2016: Top-Down and Bottom-Up Transformation
More and more people in the Albany region now know that HEARTS means something more than the muscle pulsing inside their chests.
At a meeting last year of regional health care providers, "I was told that the HEARTS Initiative came up, and people had heard of it," says Heather Larkin, Associate Professor at the University of Texas at Austin and a leader of the multi-sector collaborative Healthy Environments and Relationships That Support (HEARTS). That was especially gratifying because health care and education were two of the sectors HEARTS hoped to engage during the MARC grant's first year.
Piece by Piece: Building Relationships
That engagement happened piece by piece, relationship by relationship: The HEARTS Initiative met with the Capital District Physicians' Health Plan (CDPHP), a local insurance provider, and connected with a prominent area psychiatrist. Then, a few health care providers attended a spring 2016 ACE presentation by that same psychiatrist, focused on the neuroscience of adversity and trauma. HEARTS member David Wallace, clinical director at the LaSalle School, a residential treatment program for boys who've experienced trauma, mental illness and substance abuse, was invited to present during grand rounds at Albany Medical Center; later, a NICU social worker from the hospital joined HEARTS.
A similar crochet of relationships helped connect HEARTS with area teachers. "We got connected to CASDA (Capital Area School Development Association), which provides continuing education for educators in the capital region," Larkin says. "They were starting to hear more about a need to deal with trauma and difficult behaviors. We had ACE events and engaged a couple of them as panelists." That partnership led to a full-day spring 2016 workshop for educators, built around a showing of Paper Tigers.          
Getting Involved, Expanding Focus
About 500 people attended the April 2016 Capital District Symposium on ACEs, Trauma, and Response, featuring a keynote address by Melissa T. Merrick of the Centers for Disease Control and a MARC advisor. It was the region's third such gathering (read about their 2017 Symposium here). "Each year, more people…have inquired about the HEARTS initiative and how to get involved," Larkin said. About ten agencies have become partners in the past year, joining a diverse group that includes the Troy Housing Authority, the University at Albany, the LaSalle School and Senior Hope, a substance abuse recovery program for people aged 50 and over.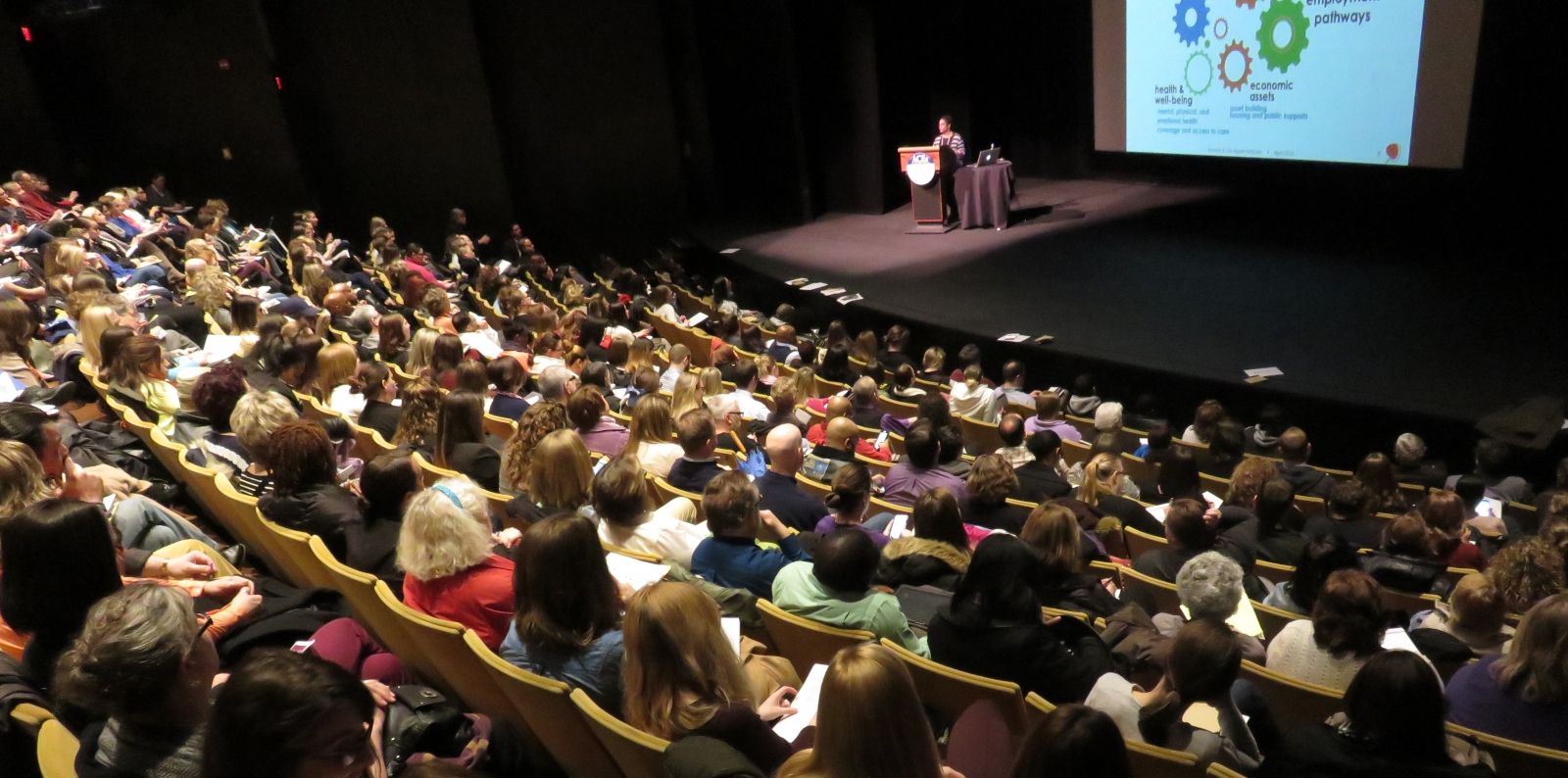 The network also welcomed some unexpected partners: enthusiastic individuals who, though not representing agencies, wanted to bring their passion and skills to the work of preventing ACEs and building resilience. One, a man retired from the New York Department of Education, was interested in doing outreach to the schools; another was a woman who volunteered with the non-profit Center for Disability Services.                                                
"Those are examples of how MARC helped us to think differently; we do want people in leadership capacity, but there are different ways people can be leaders in the community or in terms of peer support. It's broadening our scope," Larkin says.
HEARTS also hopes to make inroads with criminal justice, business groups and the media. Someone from the sheriff's department is now part of the collaborative, and the LaSalle School has joined regional planning initiatives that incorporate trauma-informed perspectives on juvenile justice.             
A Daily Effort
At the same time, HEARTS agencies work to apply ACE research to their daily efforts. At the Center for Disability Services, senior director of behavioral health Steven Marcal brought in a psychologist to train staff in the specific needs of people with intellectual disabilities who have experienced trauma. At Senior Hope, the ACE questionnaire has given counselors a way to broach the sensitive topic of childhood trauma with older adults.
And at Trinity Alliance of the Capital Region, which promotes healthy families and neighborhoods, CEO Harris Oberlander wants to build community resilience with supports such as Boy/Girl Scout troops and a victims' response program that reaches all the people affected by a violent event.              
A Multi-Layered Approach
Ironically, the swell of interest in ACEs and resilience has created a new squeeze on already-strapped agencies and people. Wallace, for instance, now fields constant requests for presentations and trainings. "How do we help more people become good at sharing this information?" Larkin says. "Sometimes it is a lot of pressure on our very committed people."
Perhaps, Larkin muses, this is how large-scale change happens: new demands force systems to re-boot, which leads to pressure on policy-makers to prioritize and fund in different ways. After years of inquiry and advocacy, HEARTS leaders learned in December 2015 that New York would include ACE questions in the state's next Behavioral Risk Factor Surveillance System (BRFSS) survey, a key tool for informing and advocating with policy-makers.
HEARTS is already laying the groundwork by meeting with state agency chiefs, mayors and county executives and by training "policy entrepreneurs," community activists who can both inspire their peers and bring "lived experience" to high-level conversations about ACEs. "It's not just a top-down approach," says Katharine Briar-Lawson, professor and dean emeritus at the University at Albany's School of Social Welfare and architect of the HEARTS policy collaborative. "We need to bring in people who can be great emissaries in their neighborhoods."              
Part of a National Movement
Meantime, HEARTS is grappling with its own growth pangs. The Initiative expanded from a cluster of relationships, informal think tanks and team meetings to a large, multi-sector network. "How do we create a more formal structure for this collaborative?" Larkin says. "There are so many people and agencies we're working with; how do we do a better job of tapping into people's skill sets?"
Those questions will be on top of the agenda for year two of the MARC grant, along with a continued focus on shifting policy at the local, state and national levels. "If we can reach key policy-makers and get people thinking about how to create more ACE-informed community development activities, that could create a big shift in how systems are set up," Larkin says. "It's an opportunity to transform how we deliver services."
Already, she says, being included in a large-scale project has given a boost to HEARTS members. "It's a validation of the work agencies have done together over the years. Now we're part of a national movement."
Read 2017: Wrapping Around the Kids
Read 2015: The HEARTS of the Matter
Related Press:
News10 ABC,
November 30, 2017
Times Union,
February 15, 2017