Across the United States, cross-sector networks are using the science of adverse childhood experiences (ACEs), trauma, and resilience—collectively called "ATR"—to build thriving and equitable communities. 
Mobilizing Action for Resilient Communities (MARC) is a hub for tools and inspiration—by networks, for networks—to support this growing movement.
Our Roots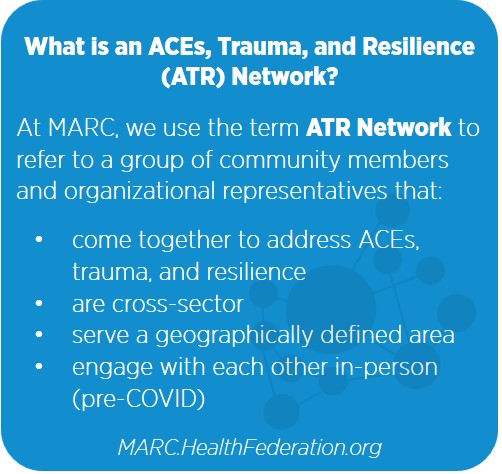 MARC began as a learning collaborative of 14 established networks dedicated to trauma-informed policy and practice change. For two years, this cohort shared notes, identified best practices and developed tools to gauge the impact of their work. Many of the resources on this site come from their collective wisdom.
The Health Federation of Philadelphia (HFP) coordinated the learning collaborative as part of its MARC 1.0 Initiative. HFP, with guidance from the MARC Advisory Committee, provided financial investment and technical assistance to the participating sites with support from the Robert Wood Johnson Foundation and The California Endowment. A cross-site evaluation of the MARC 1.0 Initiative was conducted by Westat.
Branching Out
Today, hundreds of networks, using the science of ACEs, trauma, and resilience and the tools of community organizing, are growing the movement. More than 40 of them took part in the 2017 MARC National Summit and nearly 300 of them participated in our 2020 National Survey conducted in partnership with NORC at the University of Chicago (check out our interactive map!).​
Together, these networks demonstrate that while ACEs and trauma may help explain an individual's or a community's past, they do not determine the future. 
Healing happens. Prevention works.
Together, we move towards a more just, healthy and resilient world. 
Join us by unlocking the power of networks with our searchable digest of resources — by networks, for networks.