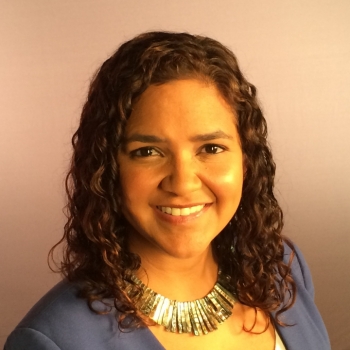 "We've known lots about risk factors for decades, but we haven't intentionally integrated health equity into our work. That's at the top of my wish list for MARC—that we truly ask 'why?' Why are some groups more at risk for having early adversity?"
Melissa Merrick, PhD
Melissa Merrick gets frustrated with stories of individuals who shine in spite of multiple adversities—the kid from the rough side of town who miraculously makes it to Harvard. "We don't talk enough about the mentors that kid had, the universal pre-K, all the behind-the-scenes and contextual factors that might have enabled him to thrive," she says.
Melissa hopes the MARC communities and collaborative will help create a new narrative: "that we all have a role in raising children and that my children will do better if all our children are doing better."
Melissa, a behavioral scientist in the Division of Violence Prevention at the U.S. Centers for Disease Control and Prevention, followed a career arc from psychology to public health. She hopes to bring both perspectives to her work with MARC, helping communities explore "where one needs to capitalize on the really strong base of individual-level factors while recognizing that we need to have a broader health-informed goal to achieve impact."
Much of Melissa's work examines protective factors: the safe, stable, nurturing relationships and environments that can prevent and mitigate child maltreatment. Those factors were evident early in her career when she worked with foster children in Philadelphia. In spite of devastating adversities—incarcerated parents, years in foster care—the children showed curiosity and energy. "You could be struck by all these kids had gone through, or you could see a lot of hope and how resilient they were. I didn't have a label for the protective factors then, but I could see that there was a lot of hope in this area."
Already, in reviewing applications from potential MARC communities, Melissa has been impressed by what localities are accomplishing, often with few resources. She hopes the collaborative will help these communities to ask even deeper questions about the roots of adversity. "We've known lots about risk factors for decades, but we haven't intentionally integrated health equity into our work. That's at the top of my wish list for MARC—that we truly ask 'why?' Why are some groups more at risk for having early adversity? How do we impact change and assure the conditions…so everyone has an equal chance of being healthy and successful and achieving their maximum life potential?"