Taking ACEs to School: Trauma-Informed Approaches in Higher Education
"What happened to you?" isn't just a question for therapists to ask their troubled clients. It's a question that should inform the work of physicians, nurses, lawyers, educators, social workers and public health advocates from the time they are learning their professions to each real-world encounter.
That's the hope of the Philadelphia ACE Task Force (PATF), whose workforce development group released a toolkit to help faculty across a range of disciplines weave content on adverse childhood experiences (ACEs) and resilience into new or existing graduate curricula.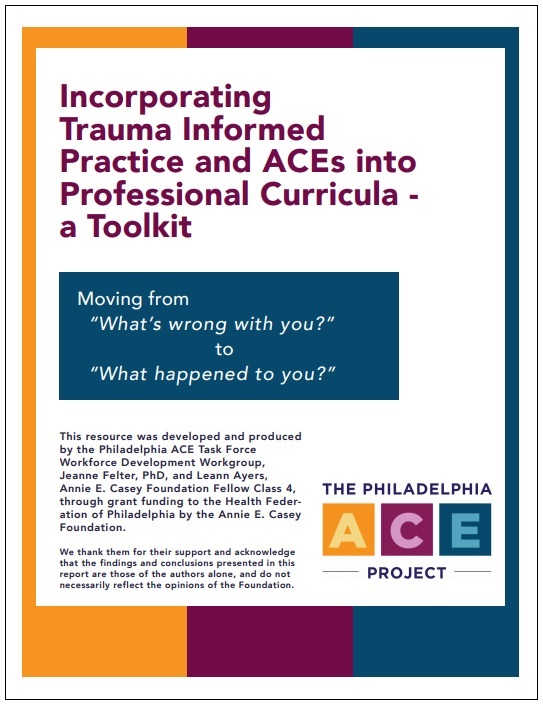 The release of the online toolkit coincided with an October 2016 event that brought together local faculty and administrators in higher education, along with funders and leaders of government and private non-profit agencies, to learn why the next generation of the work force must examine all they do through a trauma-informed lens.
The PATF work group conducted national and local scans to learn about current offerings in trauma education, looking primarily at programs in social work, behavioral health, medicine, nursing, law, public health and education. They pored through course catalogues, university websites and syllabi for terms such as "trauma," "ACEs," "resilience," "abuse" and "adversity."
They found 51 schools—concentrated mostly in the northeast and western regions of the country—that offered trauma-related courses, certificates, concentrations or programs. Most of those were in the field of psychology.
The work group then took the next step, outlining five key concepts that should be part of any graduate-level trauma education program. They include:
the impact of ACEs and implications for adulthood

defining trauma

the impact of trauma on development and behavior

defining trauma informed care

coping with secondary exposure to trauma
The toolkit provides learning objectives, slides, links to videos, handouts and other resources. In a pilot project, Temple University worked with PATF leaders to develop a three-hour workshop for 150 students, faculty and field supervisors in social work and other health professions. Pre- and post-evaluations showed gains in participants' knowledge of trauma-informed concepts including the ACE study, signs of secondary traumatic stress and safety plans.
Several other sites participating in Mobilizing Action for Resilient Communities (MARC) have begun to link with leaders in higher education. In Washington, a screening of Paper Tigers for the staff of Walla Walla Community College received such passionate reception that the college invited leaders of the Community Resilience Initiative back to campus for a 75-minute follow-up training.
At the University of Florida in Gainesville, Peace4Tarpon was the 2016 fall semester focus for graduate students in health communications with their professor, Mark Hart. The students created an expanded social media presence for Peace4Tarpon and resources, including PSAs and infographics. Some of the projects will be presented at the American Public Health Association's national conference this year.  
The Illinois ACEs Response Collaborative showed Paper Tigers at Chicago State University, the School of Public Health at the University of Illinois and Loyola University Chicago's School of Law to audiences that included undergraduate and graduate students, faculty and administrators.
And in New York, where the Healthy Environments and Relationships That Support (HEARTS) initiative grew from think tank and action meetings at the University at Albany, the work of resilience-building has involved frequent cross-over from the academic arena to the worlds of policy and practice.
But few communities have gone as far as Philadelphia to bring trauma-informed approaches to world of higher education. Back in 2015, PATF members met with staff of the National Board of Medical Examiners, which develops and manages the United States Medical Licensing Exam, as part of the effort to integrate ACE information into professional exams as a way of shaping curricular content.
The October event was sponsored by Philadelphia University's Community and Trauma Counseling program, the Children's Crisis Treatment Center and the United Way of Greater Philadelphia and Southern New Jersey, three entities that were collaborating for the first time.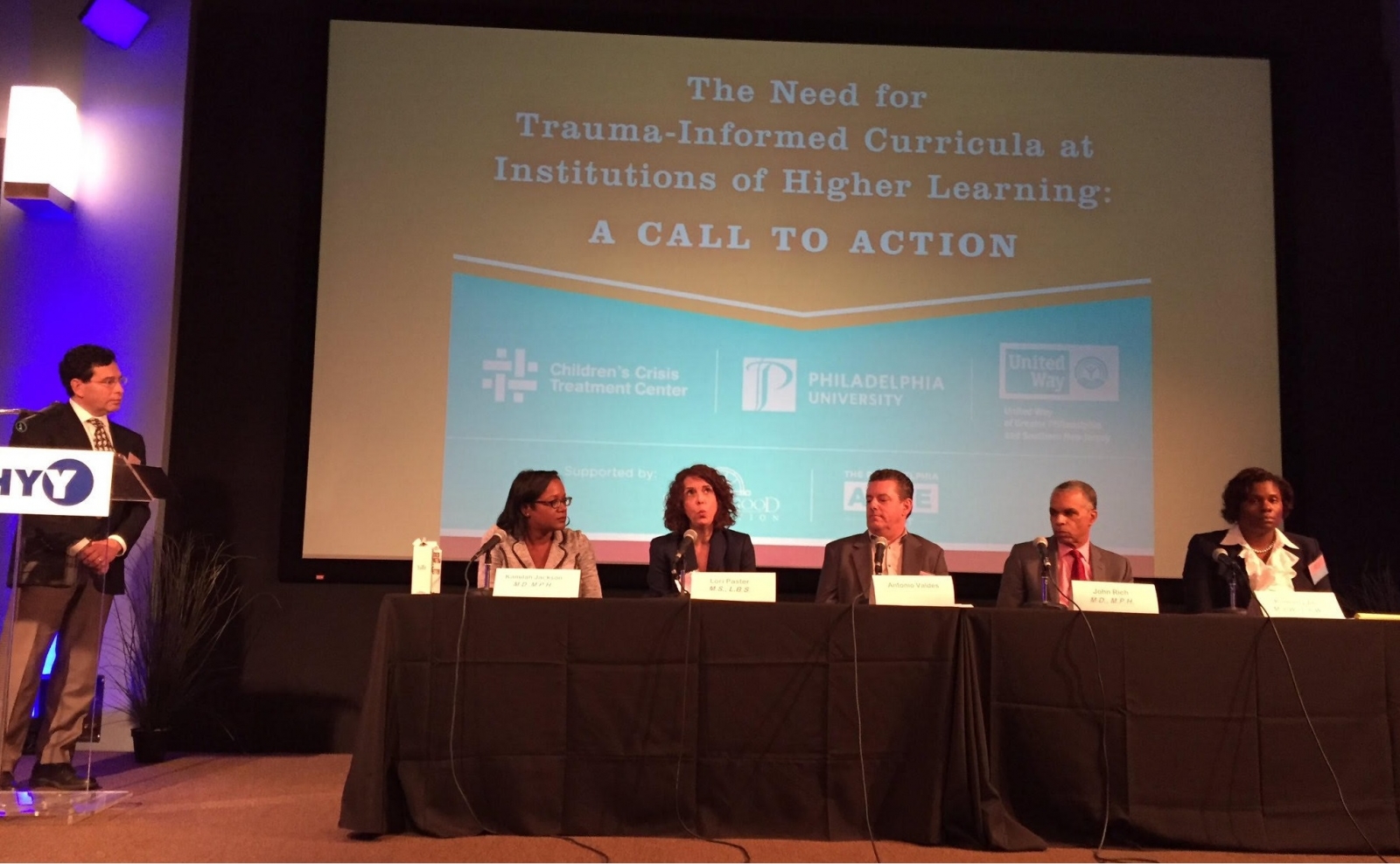 There, a panel of representatives from the Philadelphia School District, the city's Department of Human Services and its Department of Behavioral Health and Intellectual disAbility Services underscored the need for teachers, social workers, doctors, nurses and public health workers who understand trauma and its impact.
"I've seen teachers crying, saying, 'Everything I've learned doesn't work,'" said Lori Paster, deputy chief of prevention and intervention for the school district. "Our teachers and our leaders are coming to our schools unprepared with the competencies they need…We become machines that are crisis-responders."
Several speakers noted that trauma-informed higher education isn't just a matter of re-booting course syllabi; it also calls for attention to what happens within and outside the classroom—in counseling centers, residence halls, student clubs and faculty meetings.
"When you put on the trauma lens, everything gets clear that was muddy before," said keynote speaker Sandra Bloom, associate professor of health management and policy at Drexel University's Dornsife School of Public Health. "Trauma, adversity and stress touch everyone's life."
She urged faculty and administrators to assume that the majority of people in their communities, both students and staff, have experienced some kind of adversity and may exhibit that trauma through anxiety, depression, difficulties with concentration, interpersonal conflict, aggression, substance abuse or self-harm.
"How do you embed the knowledge not just about what goes wrong, but about how people heal?" she asked.
Panelists talked about some of the ways that is happening: through staff training in "mental health first aid," through reflective supervision that allows employees to talk frankly about the difficulties of their work, through a staff retreat that included a session on aromatherapy as a self-calming strategy.
"I've pushed through curriculum change; I know how burdensome that process is," said Jeanne Felter, director of the Community and Trauma Counseling program at Philadelphia University (recently integrated with Thomas Jefferson University) and an organizer of the event. But offering a trauma-informed care curriculum "is not just about what content to deliver," she reminded the audience. "It's about how you create a sensitive environment that provides safety…and we want you to do it now."
Resources:
PATF's Workforce Development and Higher Education Workgroup developed this toolkit to aid faculty and staff across multiple disciplines—specifically social work, medicine, law, education, and counseling—to develop or integrate critical content on adverse childhood experiences and trauma informed care into new or existing curricula of graduate education programs.
Sec. 5. CURRICULUM; ADVERSE CHILDHOOD EXPERIENCES
The General Assembly recommends that the State Colleges and University of Vermont's College of Medicine, College of Nursing and Health Sciences, and College of Education and Social Services expressly include information in their curricula pertaining to adverse childhood experiences and their impact on short- and long-term physical and mental health outcomes.
---
Anndee Hochman is a journalist and author whose work appears regularly in The Philadelphia Inquirer, on the website for public radio station WHYY and in other print and online venues. She teaches poetry and creative non-fiction in schools, senior centers, detention facilities and at writers' conferences.​