2017: Health and Healing
Building Resilience from the Ground Up
At Children's Mercy Hospital in Kansas City, a first-floor chapel with a raised ceiling, generous windows and a carpeted central area is the site for twice-weekly guided meditation open to staff, patients and family members.
In Kansas City's Crossroads Art District, the building that houses Truman Medical Centers (TMC) Behavioral Health includes conference rooms called "Jazz" and "Vine," located so that people can reach them without passing through clinical space, interrupting patients or breaching confidentiality.
And at Synergy Services, which provides shelter and support for children who have survived abuse, neglect and family disruption, the new Children's Center incorporates open porches and courtyards that invite kids to explore and play.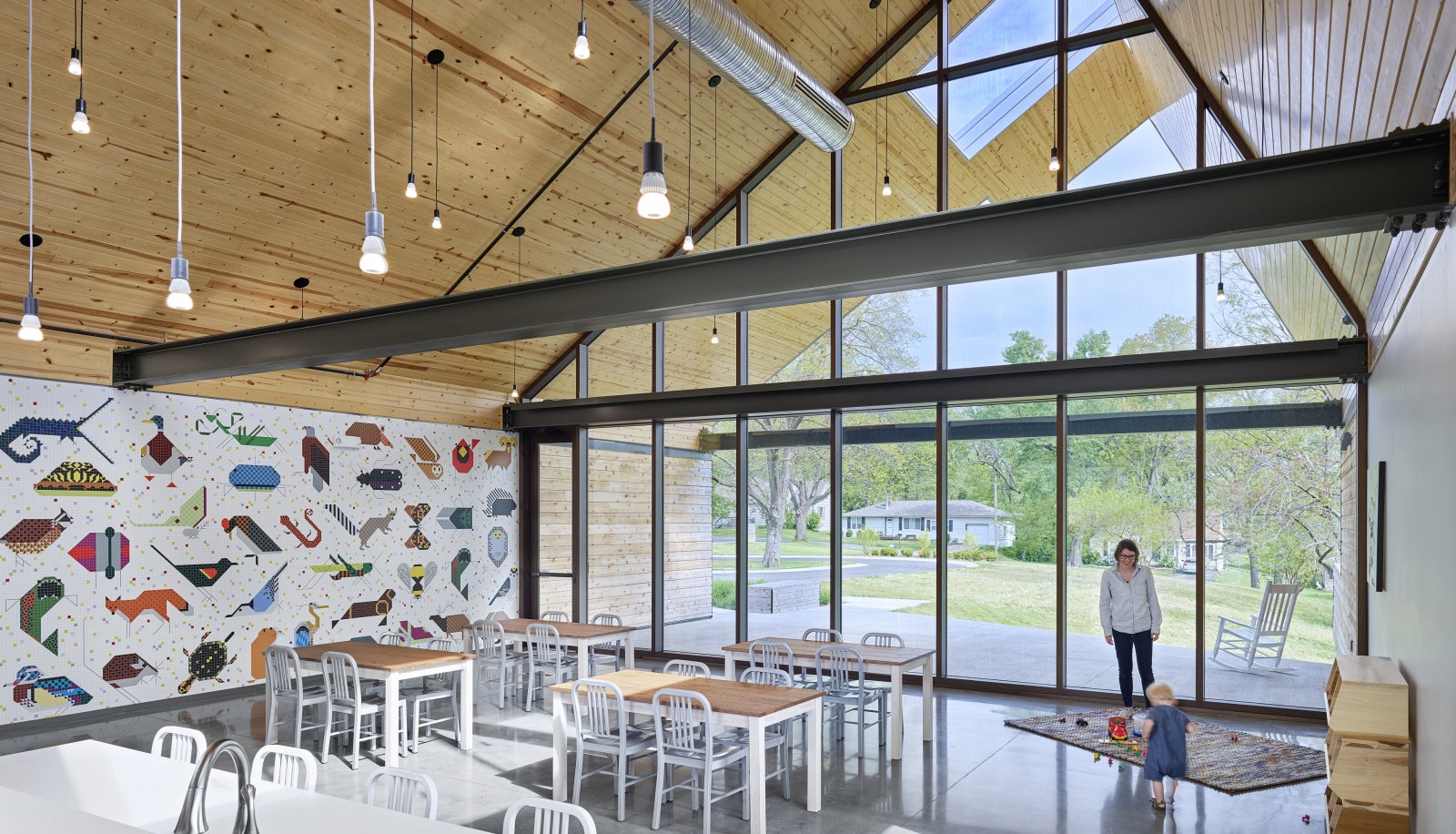 "If we're going to be sensitive to what has happened to the children, then before anyone even says anything, I want them to feel like this is a welcoming, safe place," says Dennis Meier, associate executive director of clinical services at Synergy and chair of Resilient KC's steering committee.
In all three locations, practitioners involved with Resilient KC began looking at physical spaces—reception areas, exam rooms, even elevators—through a trauma-informed lens. They learned from local experts, including a professor of urban studies at the University of Missouri-Kansas City and architects from a firm that includes "agility/resilience" as a design goal.
"We took a look at the impact that environment has on people's sense of safety, of belonging, of feeling supported. We looked at the core principles of choice and collaboration and empowerment," says Marsha Morgan, formerly chief operating officer of TMC's Department of Behavioral Health and a founder of Trauma Matters Kansas City, a collaborative that partnered with the Greater Kansas City Chamber of Commerce to form Resilient KC.
When considering the design for Truman's main building, known as "The Healing Canvas" because of its location in the arts district, architects consulted with young adult patients who would be using the space.
"It has Nintendos and PlayStations, an exercise area, their own private entrance," Morgan says. And when designers came in with swatches for carpet and upholstery in bright, primary colors, the young people nixed them. "We're not babies," they said.
If we're going to be sensitive to what has happened to the children, then before anyone even says anything, I want them to feel like this is a welcoming, safe place.
Instead, the building, which had housed horses, cars and a photo studio since it was built in the late 1800s, was painted in shades of soft green, including a color called "lemongrass."
"We took it all the way down to the outside walls and opened it up; every floor was designed with…attention to the flow, the feel," Morgan says. On the kids' floor, chair-gliders provide a means for repetitive, calming motion. Work-stations for staff are arranged not in the typical maze, but in a horseshoe pattern, so clinicians have private space to chart notes but can easily consult with colleagues.
Morgan notes that even small changes—bulbs that cast gentle yellow rather than harsh white light, artwork that reflects clients' cultures—can create a more healing atmosphere. "I think it's important that we pay attention to little improvements every year."
Not all design efforts succeed. Morgan recalls Truman's attempt to create a modern, open space with concrete floors and concrete ceilings; it turned out that sound, including patients' conversations with clinicians, leaked through the area, and offices had to be retrofitted with "lids" to ensure confidentiality.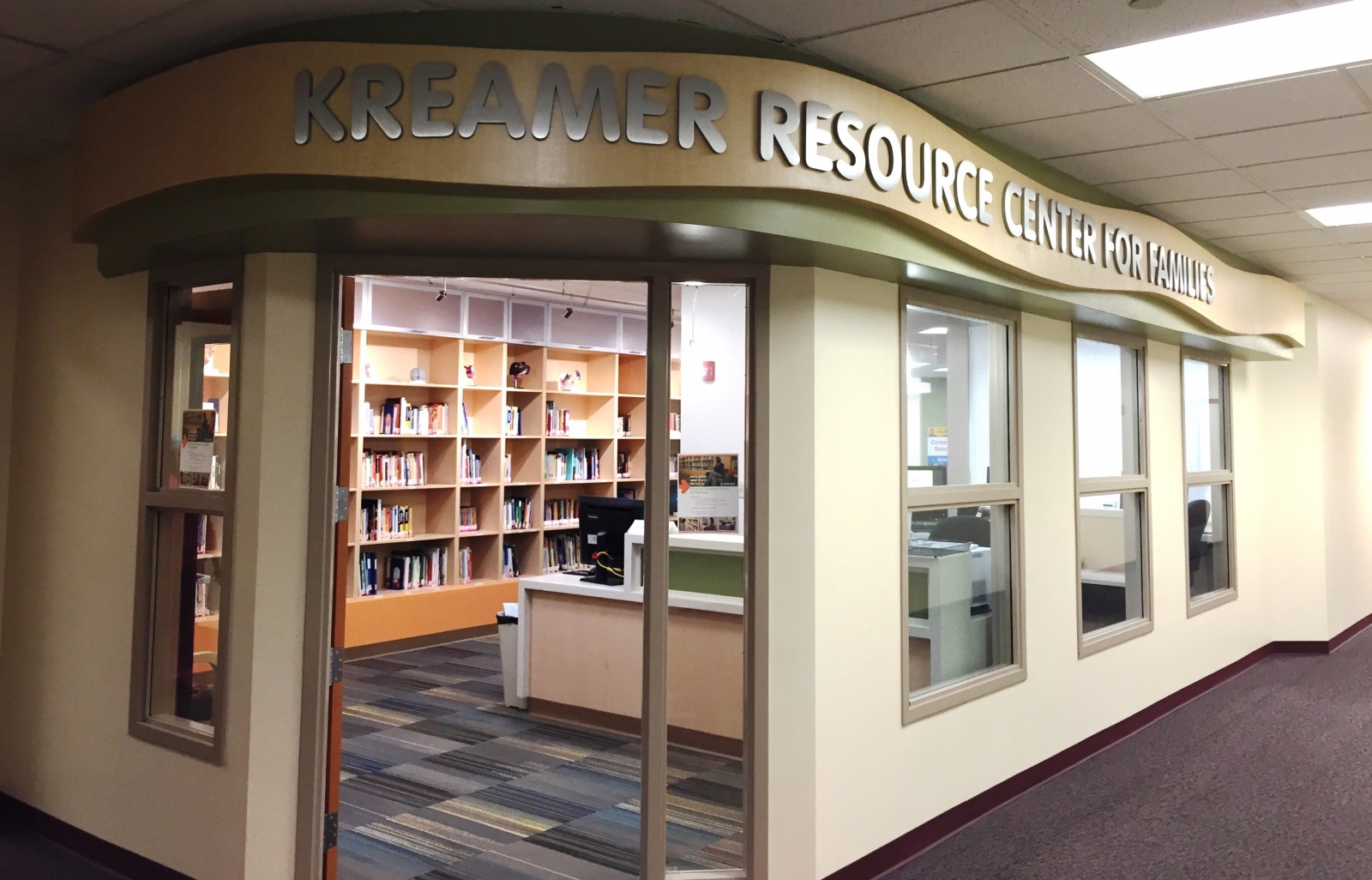 At Children's Mercy, where Patricia Davis is manager for trauma-informed care and serves on the steering committee for Resilient KC, the Kreamer Family Resource Center offers private areas where family members can use computers to learn more about their child's diagnosis; a business center with fax, scanner and phone chargers; and an interactive children's "Magic Space" with Lego models, a doodle reef and toys.
The hospital's design, intentionally child-friendly with kaleidoscopes in waiting areas and elevators dubbed "tiger," "giraffe" and "unicorn," also holds places where staff can unwind and debrief.
After a death or an especially difficult case, staff can call on the chaplaincy department for "tea for the soul," Davis says. "They'll create a space with music and water flowing; the lights are dim, and folks can come in and speak, or not, and have 15 minutes of mindfulness."
Meier, who spent a few years avidly reading about trauma, the human brain and child development before he joined Trauma Matters KC, says Synergy had the perfect opportunity to put resilience principles to work when building the Youth Campus, a $9 million project completed in 2009, and the Children's Center, a $7 million, 16-bed residential facility for crisis care, built in 2015.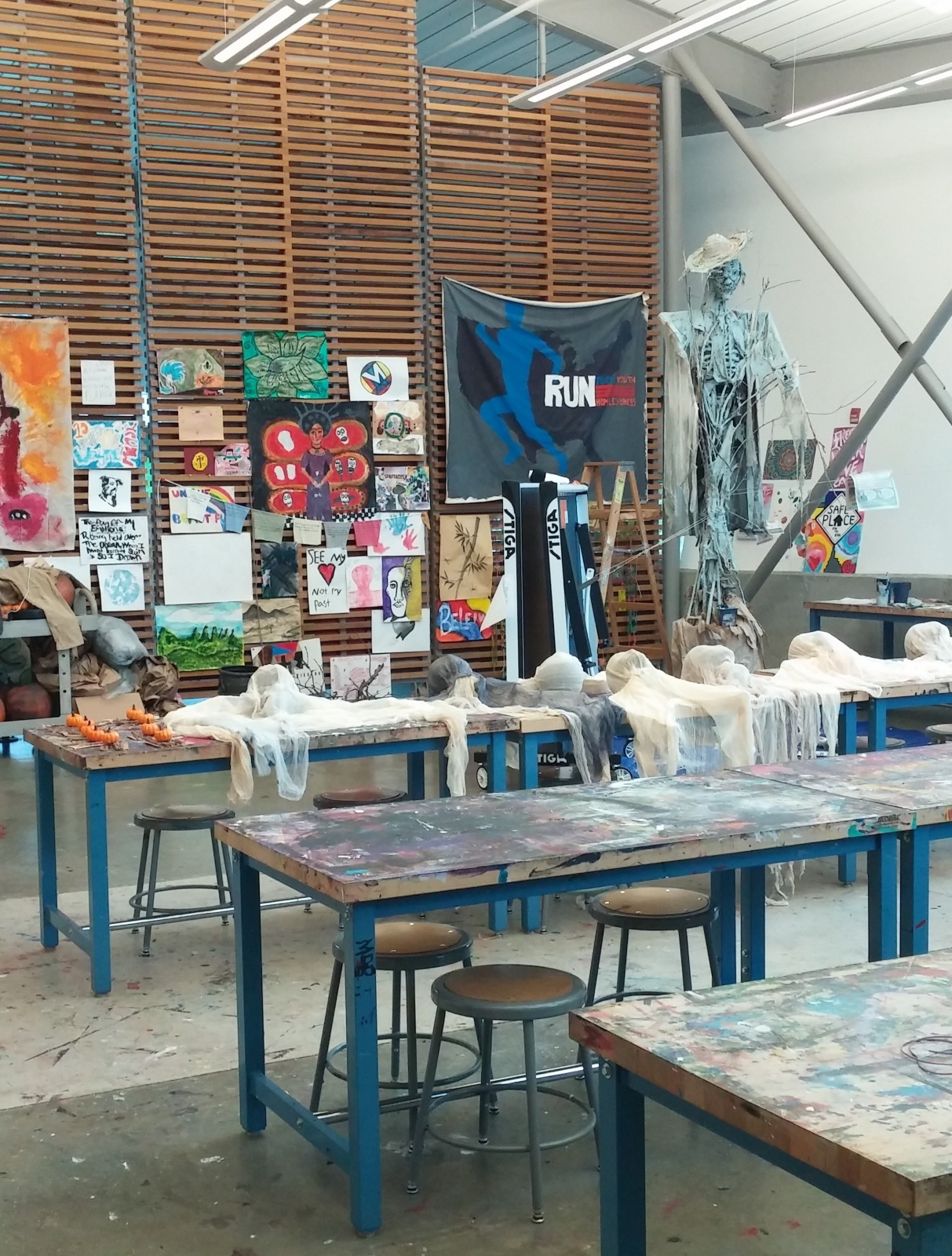 The former involved a combination of rehabbing existing buildings—a 70-year-old farmhouse now houses an art studio—and adding new structures. "One of the architects said, 'This is an example of making old spaces resilient.' Which is a great metaphor for what we're doing relationally and psychologically," Meier says.
He knew the concepts had caught on when he overheard contractors—electricians, carpenters, plumbers—saying, "Yeah, this is for kids. We have to do this in a way that…what did Dennis call it? That resiliency thing."
And he hopes the buildings will have long-term impact, in the way that centuries-old churches still embody a community's faith and values. "What we've done is begin to put our trauma-informed beliefs systems into brick and mortar."
Read 2016: Sharing the Stories that Matter
Read 2015: Learning to Listen
More Community Voices
Related Press:
American Psychiatric Association Blog,
June 22, 2017
The Kansas City Star,
May 16, 2017
The Kansas City Star,
May 13, 2017