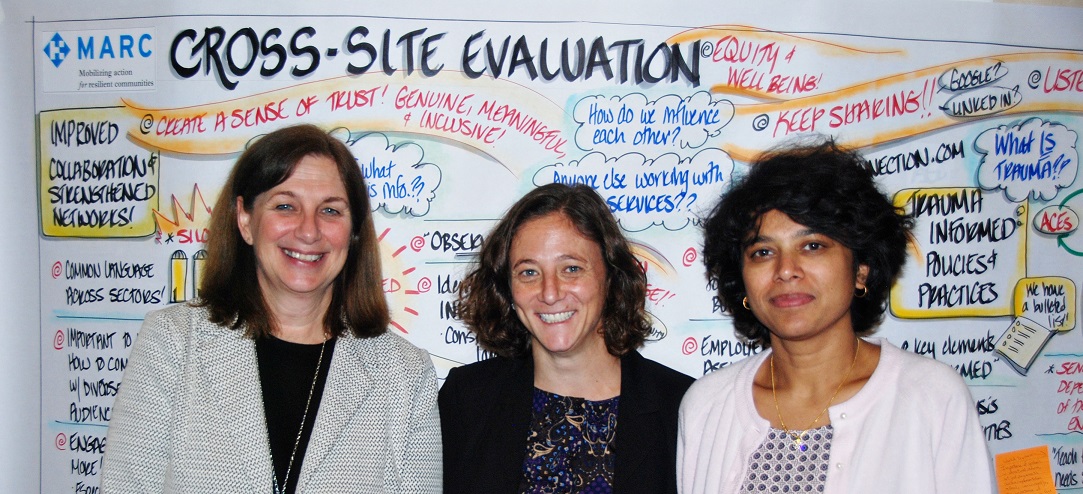 The MARC Evaluation Team from Westat in front of a graphic recording by Deirdre Crowley (Crowley & Co.) of a MARC cross-site evaluation planning discussion. From left to right: Debra Rog, PhD, Tamara Daley, PhD, Nanmathi Manian, PhD
---
In collaboration with the Health Federation of Philadelphia and the 14 communities, Westat is conducting a three-year evaluation of MARC. The overarching goal of the evaluation is to understand and assess the effectiveness of multi-sector community efforts in addressing violence and trauma and promoting health and well-being. The extent to which the initiative has achieved the intended outcomes within the individual communities as well as broader change outside these communities will be examined. In conjunction with the MARC evaluation, Westat is also providing technical assistance to help each site in its own evaluation process.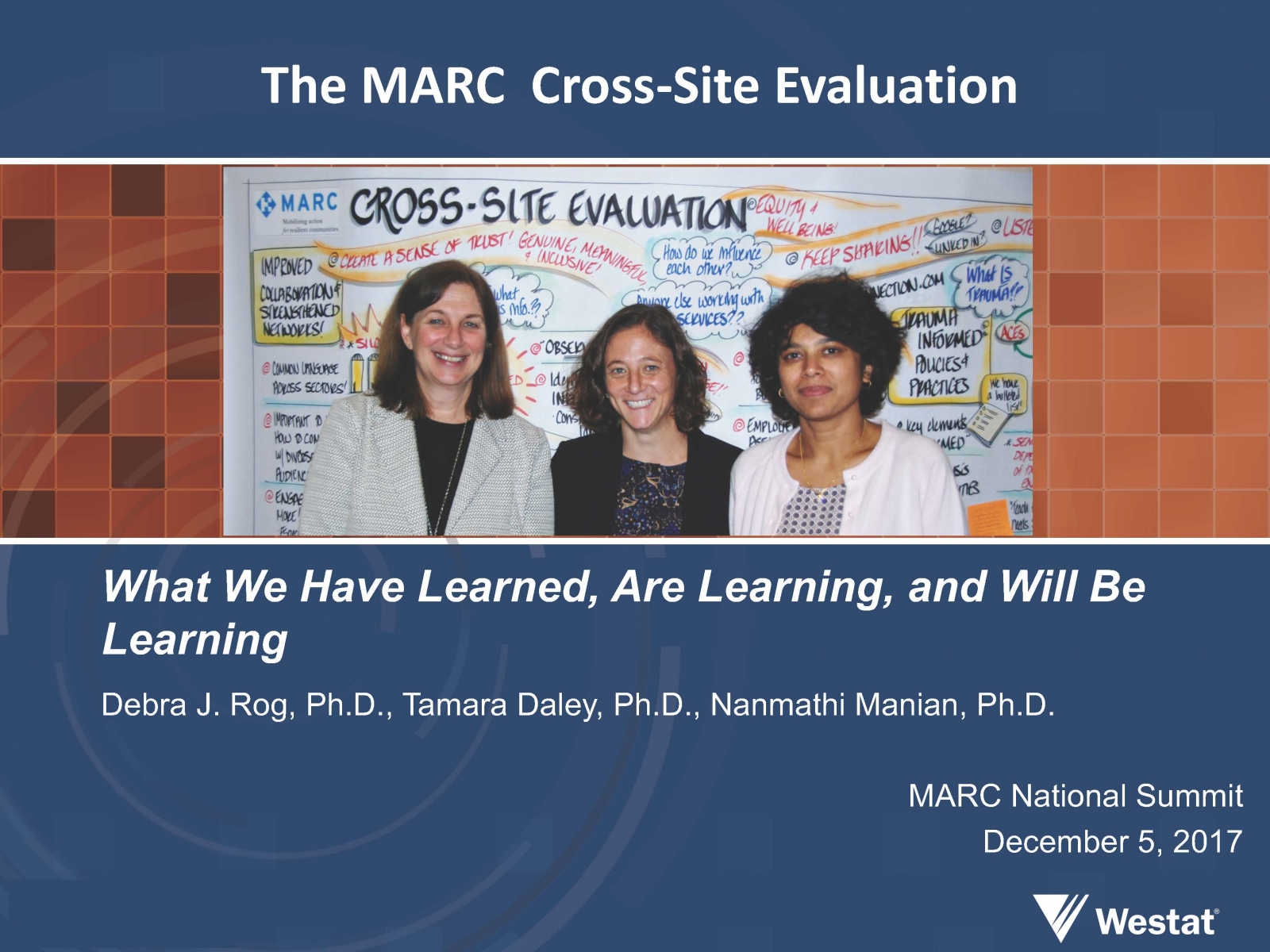 The MARC evaluation includes a focus at multiple levels to measure implementation and outcome both of the individual sites and the overall initiative:
Local: Westat is examining each of the 14 MARC sites individually, with a focus on understanding the particular approach each takes to address ACEs and resilience through its network activities, challenges and successes it has experienced, and its work in each area of the broader MARC initiative.
Cross-Site: The evaluation will also look across the MARC communities to see how they work toward the outcomes of the MARC initiative, and gain an understanding of factors that facilitate and hinder progress among communities using a multi-sector initiative to address ACEs.
National: The Evaluation will seek to understand the ACE movement at the national level, including the role that the MARC initiative has played in moving the field forward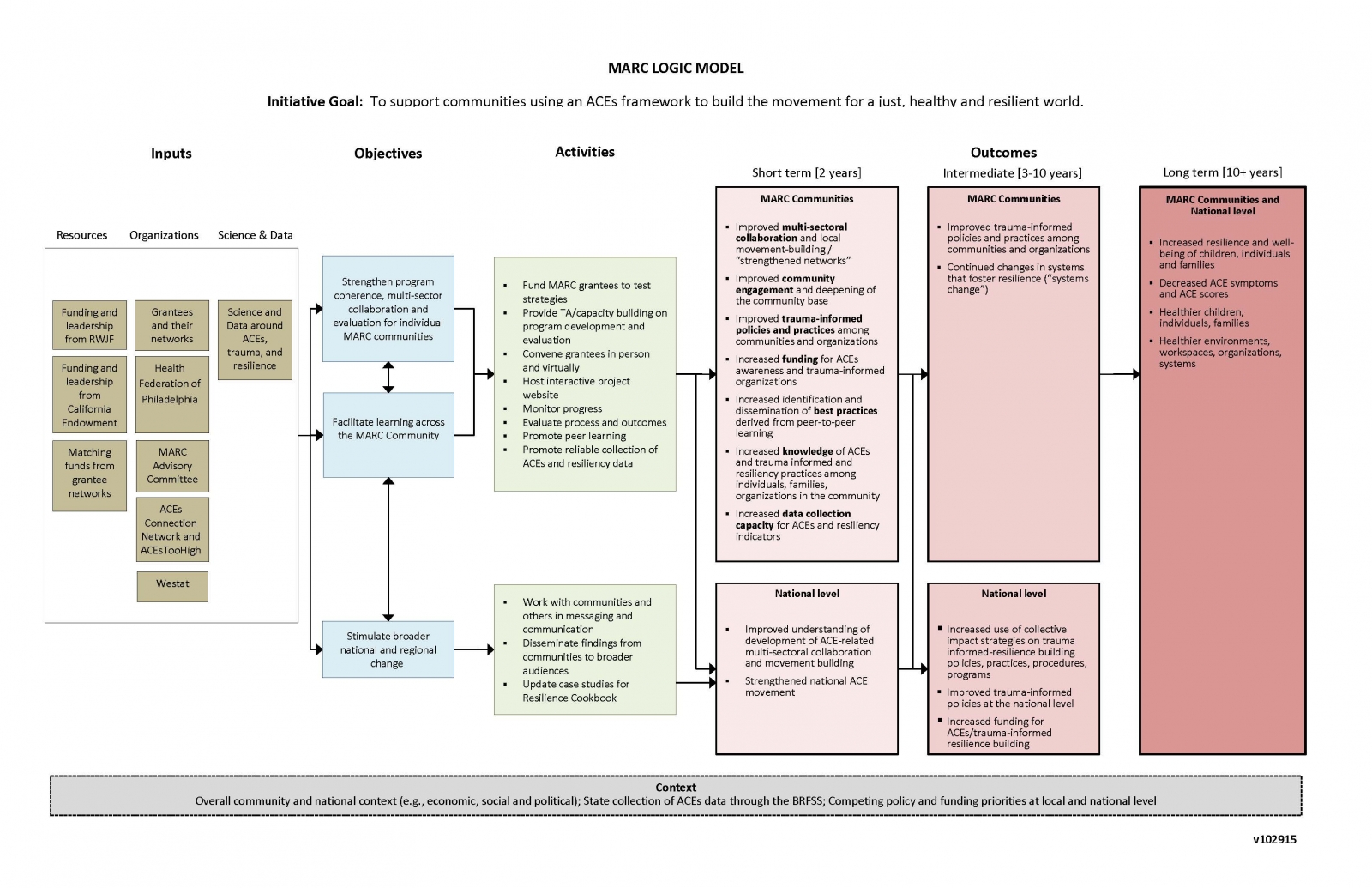 Too small to read?  Download a copy of the logic model here.
---
Westat is an employee-owned research organization with more than 2,000 staff located in the Washington DC area, and with offices in 9 other locations in the U.S. and 6 countries overseas. Founded in 1963, Westat is recognized for its expertise in evaluation, statistical survey, communication, and social marketing research. The organization has conducted successful research and evaluation studies in a wide range of subject areas including social and health services, homelessness and education, among many others. In evaluation,Westat has extensive expertise in assessing programs' readiness for evaluation and in designing and conducting a range of studies, including process and outcome efforts, studies involving longitudinal designs, and studies using qualitative, quantitative, and mixed-methods designs. Westat is also a leader in designing information technology solutions to meet client needs.