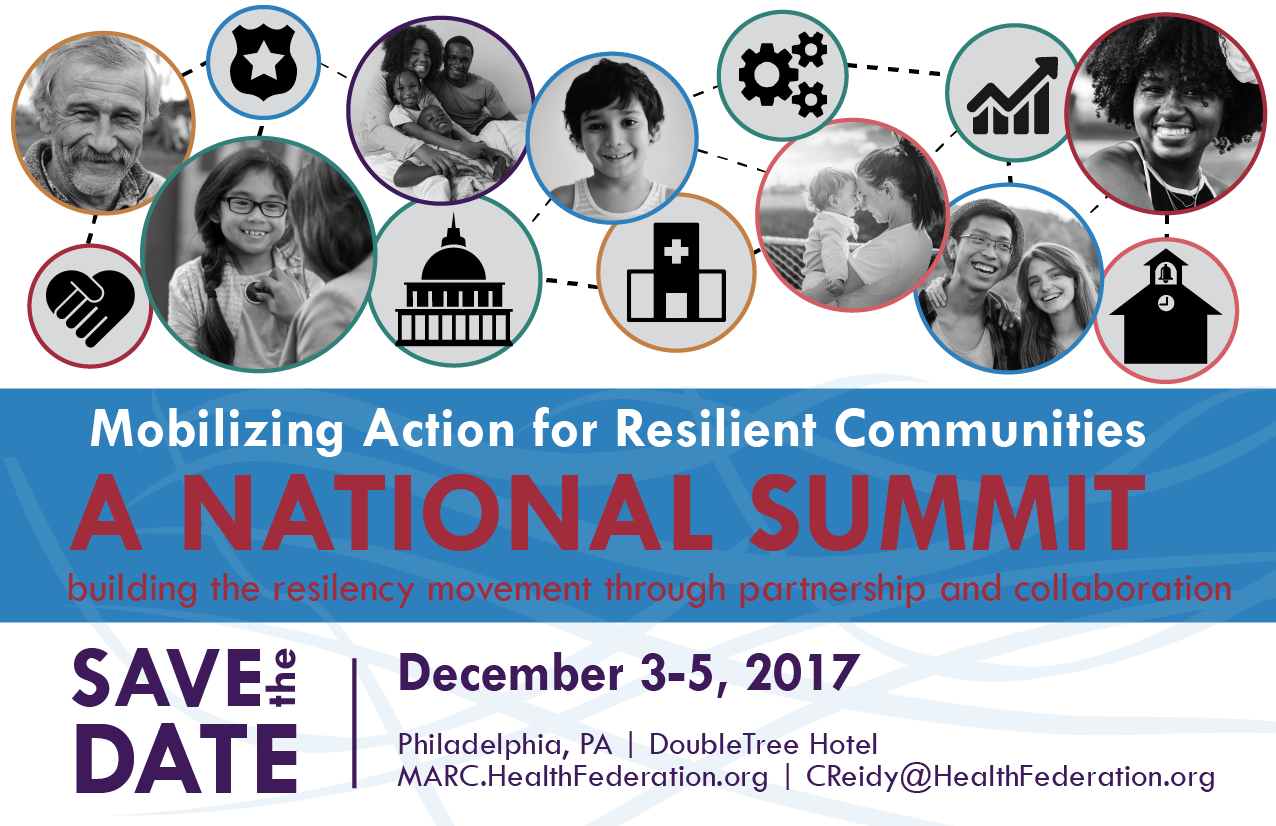 **By Invitation Only**
The Mobilizing Action for Resilient Communities National Summit is for leaders around the nation who are working across sectors to prevent and mitigate the impact of early childhood adversity and to build resilient communities.  It is an exciting opportunity to connect with creative community leaders, innovative social entrepreneurs, movement founders, grassroots organizers, and others from health, education, law enforcement, philanthropy, business, and beyond! ​
Come ready to engage! Come away energized and equipped!
The summit opens with a networking reception on the evening of Sunday, December 3, 2017. On Monday, December 4, and Tuesday, December 5 (ending at 2:30pm ET), the summit will focus on innovation exchange and collaboration—both within and across sectors—to address early childhood adversity and build community resilience.  
The summit agenda features an impressive line-up of keynote speakers and panelists, including: 
| | |
| --- | --- |
| | Christopher Blodgett, PhD, is a Washington State University faculty member and a licensed clinical psychologist. Chris has been the Principal Investigator for more than three dozen federal and national foundation grants addressing high-risk children and families. He is the Director of the CLEAR Trauma Center at WSU. Trauma informed schools work in the CLEAR model now includes multiple schools in Washington, Oregon, and California. Chris and his team partner with communities and systems to adapt the science of resilience, brain development, and trauma treatment to better address trauma resulting from childhood adversity. Now funded by multiple federal and philanthropic grants, this work documents the profound and immediate consequences of ACEs and tests practical actions to improve child, family, and system outcomes. Read more. |
| | David Bornstein is CEO and co-founder of the Solutions Journalism Network, which works to establish the practice of solutions journalism — rigorous reporting that examines responses to social problems — as an integral part of mainstream news. He has been a newspaper and magazine reporter for 25 years, having started his career working on the metro desk of New York Newsday. Since 2010, he has co-authored, with Tina Rosenberg, the "Fixes" column in The New York Times. He is the author of three books: How to Change the World: Social Entrepreneurs and the Power of New Ideas (2003, Oxford University Press), The Price of a Dream: The Story of the Grameen Bank (1996, Simon & Schuster), and Social Entrepreneurship: What Everyone Needs to Know (2010, Oxford University Press). |
| | Melissa T. Merrick, PhD, is a Behavioral Scientist in the Division of Violence Prevention (DVP) at the National Center for Injury Prevention and Control (NCIPC) of the Centers for Disease Control and Prevention (CDC).   Dr. Merrick serves as the Lead Scientist for the Adverse Childhood Experiences (ACE) Study in DVP and as a Subject Matter Expert for Child Maltreatment.   Dr. Merrick's research focuses primarily on the etiology, course, and prevention of child maltreatment. Read more. |
| | Laura Porter is Co-Founder of ACE Interface, LLC, and has more than a decade of experience leading successful state-wide implementation of ACE Study concepts.  Her expertise includes overseeing analysis and dissemination of surveillance and archival data to support decision making, and designing and facilitating processes demonstrated to improve population health, safety and productivity.  Laura is committed to developing market forces in the ACE social movement sufficient to sustain the courageous leaders who are using ACE and resilience science and Building Self-Healing Communities. Read more. |
|   | Cynthia Barron—Sesame Workshop |
|   | Frank Belmonte, DO, MPH, FAACP—Advocate Children's Hospital |
|   | Jeanette Betancourt, EdD—Sesame Workshop |
|   | Deputy Commissioner (retired) Kevin Bethel, MS—Philadelphia Police Department |
|   | Renée Boynton-Jarrett, MD, ScD—Vital Village Community Engagment Network |
|   | Somer Gauthier—Owner/Operator at Helena McDonald's |
|   | Scott Hall, JD, MBA—Greater Kansas City Chamber of Commerce |
|   | Major Darren Ivey—Kansas City Police Department |
|   | Chief Robert Sears, MPA—Albany Police Department |
Questions?  Contact summit coordinators at marc.healthfederation.org.