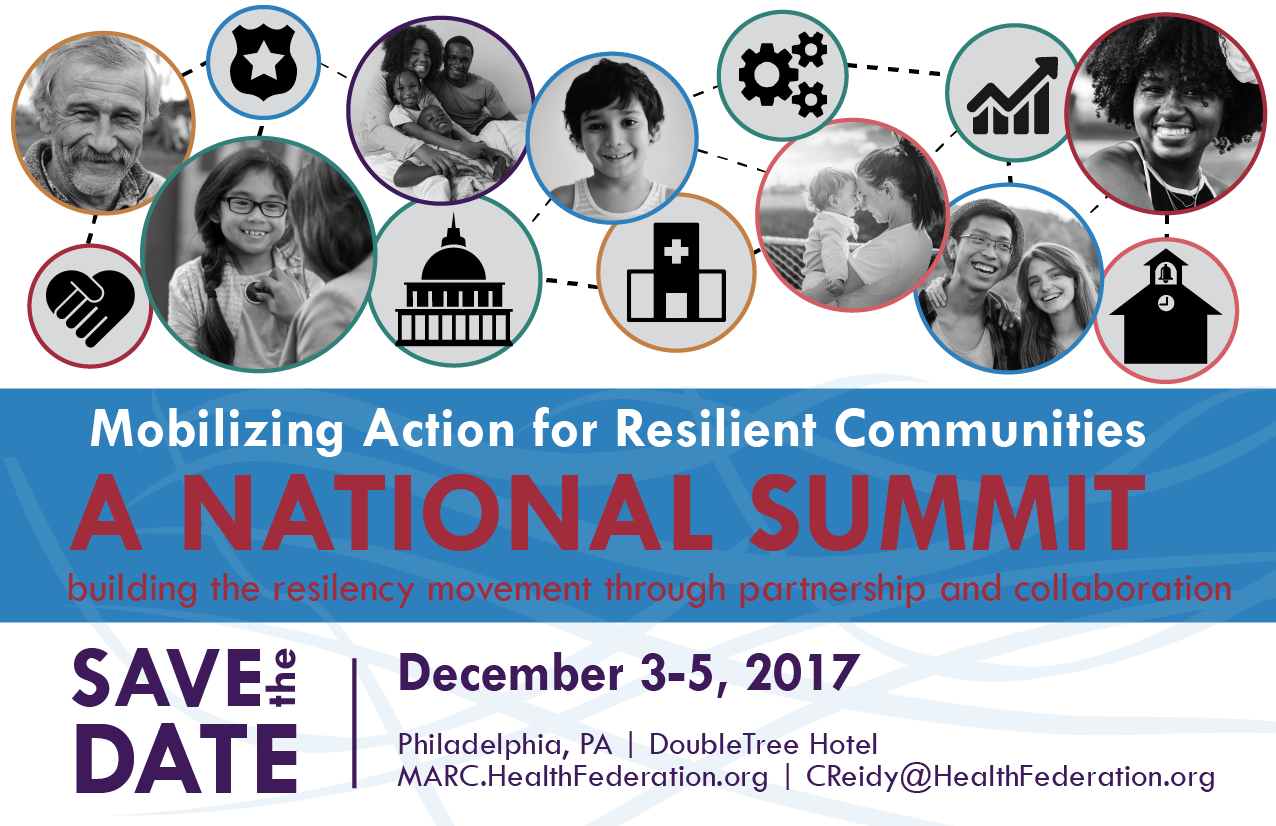 **By Invitation Only**
The Mobilizing Action for Resilient Communities National Summit is for leaders around the nation who are working across sectors to prevent and mitigate the impact of early childhood adversity and to build resilient communities.  It is an exciting opportunity to connect with creative community leaders, innovative social entrepreneurs, movement founders, grassroots organizers, and others from health, education, law enforcement, philanthropy, business, and beyond! ​
Come ready to engage! Come away energized and equipped!
The summit opens with a networking reception on the evening of Sunday, December 3, 2017 (6:30pm-8:00pm ET). On Monday, December 4 (8:30am-5:30pm ET), and Tuesday, December 5 (8:30am-2:30pm ET), the summit will focus on innovation exchange and collaboration—both within and across sectors—to address early childhood adversity and build community resilience.  
The summit agenda features an impressive line-up of speakers, including: 
| | |
| --- | --- |
| | Jeanette Betancourt, EdD, is the Senior Vice President for U.S. Social Impact at Sesame Workshop, the nonprofit organization behind Sesame Street.  She directs the development and implementation of community and family engagement initiatives making a difference in the lives of vulnerable children and their families. These research-based initiatives are designed to impact children's early learning, health and well-being, and provide strategies and resources to counteract the effects of trauma while fostering the critical connections that adults have on children's lives. She is a licensed bilingual speech and language pathologist and educational therapist. She participates on several national and local boards and has contributed to the start of charter schools. Dr. Betancourt has a BA and MA in Speech and Language Pathology; an MS in Bilingual Reading/Special Education, and an Ed.D. in Special Education. |
| | David Bornstein is CEO and co-founder of the Solutions Journalism Network, which works to establish the practice of solutions journalism — rigorous reporting that examines responses to social problems — as an integral part of mainstream news. He has been a newspaper and magazine reporter for 25 years, having started his career working on the metro desk of New York Newsday. Since 2010, he has co-authored, with Tina Rosenberg, the "Fixes" column in The New York Times. He is the author of three books: How to Change the World: Social Entrepreneurs and the Power of New Ideas (2003, Oxford University Press), The Price of a Dream: The Story of the Grameen Bank (1996, Simon & Schuster), and Social Entrepreneurship: What Everyone Needs to Know (2010, Oxford University Press). |
| | Kanwarpal Dhaliwal, MPH, is one of the co-founders of RYSE and currently acts as the Associate Director. As Associate Director, she supports and guides the implementation and integration of healing-centered practices, grounded in racial justice and liberation, across all of RYSE's program areas. She also develops, promotes, and advocates for policies, investments, practices, and research that enliven healing, justice, and liberation across the fields and sectors in which RYSE works. Kanwarpal believes that the purpose of her work and life is to contribute to movements, communities, and legacies of liberation that honor the ancestors who fought for her existence and survival, and to forge a world that is just and gentle for future generations. Before joining RYSE, Kanwarpal received a Master's Degree in Public Health, and now serves as adjunct faculty at San Francisco State University. |
| | Laura Porter is Co-Founder of ACE Interface, LLC, and has more than a decade of experience leading successful state-wide implementation of ACE Study concepts.  Her expertise includes overseeing analysis and dissemination of surveillance and archival data to support decision making, and designing and facilitating processes demonstrated to improve population health, safety and productivity.  Laura is committed to developing market forces in the ACE social movement sufficient to sustain the courageous leaders who are using ACE and resilience science and Building Self-Healing Communities. Read more. |
|   | Debra Rog, PhD—Westat |
| | Donald Schwarz, MD, MPH, MBA, is vice president, Program, for the Robert Wood Johnson Foundation. Dr. Schwarz currently leads the Foundation's efforts to promote healthier, more equitable communities, healthy children, and healthy weight. Dr. Schwarz was formerly Deputy Mayor for Health and Opportunity and Health Commissioner for the City of Philadelphia where he oversaw the Departments of Human Services, Behavioral Health and Intellectual Disability Services, and the Office of Supportive Housing. A board-certified pediatrician, Dr. Schwarz holds an MBA in health care administration from The Wharton School, University of Pennsylvania. He received his MD and MPH from Johns Hopkins University and earned his BA in biology from Brown University. |
PANELS
Each session will explore innovative applications of ACEs science in a particular sector — business, education, health, and law enforcement — including the role of cross-sector networks and strategies for engaging peers to adopt a trauma-informed approach.
Business

Melissa T. Merrick, PhD,  (Moderator) is a Behavioral Scientist in the Division of Violence Prevention (DVP) at the National Center for Injury Prevention and Control (NCIPC) of the Centers for Disease Control and Prevention (CDC).   Dr. Merrick serves as the Lead Scientist for the Adverse Childhood Experiences (ACE) Study in DVP and as a Subject Matter Expert for Child Maltreatment.   Dr. Merrick's research focuses primarily on the etiology, course, and prevention of child maltreatment. Read more.

 

Somer Gauthier—Owner/Operator at Helena McDonald's

 

Scott Hall, JD, MBA—Greater Kansas City Chamber of Commerce

 

Anne Jesko—Wisconsin Economic Development Corporation
Education

Christopher Blodgett, PhD, (Moderator) is a Washington State University faculty member and a licensed clinical psychologist. Chris has been the Principal Investigator for more than three dozen federal and national foundation grants addressing high-risk children and families. He is the Director of the CLEAR Trauma Center at WSU. Trauma informed schools work in the CLEAR model now includes multiple schools in Washington, Oregon, and California. Chris and his team partner with communities and systems to adapt the science of resilience, brain development, and trauma treatment to better address trauma resulting from childhood adversity. Now funded by multiple federal and philanthropic grants, this work documents the profound and immediate consequences of ACEs and tests practical actions to improve child, family, and system outcomes. Read more.

 

Deanna Beck, MEd—Northwood ABC Elementary

 

Renée Boynton-Jarrett, MD, ScD—Vital Village Community Engagment Network

 

Mary Crnobori, PhD, BCBA—Metro Nashville Public Schools
Health

Wendy Ellis, DrPH(c), MPH, (Moderator) is the Project Director of the Building Community Resilience collaborative at the Milken Institute School of Public Health at George Washington University. The Building Community Resilience (BCR) collaborative is testing and implementing a model based on Ms. Ellis' research in designing a strategic process for child health systems to align resources, programs and initiatives with community based partners to address childhood adversity and reduce the effects of social determinants that culminate in toxic stress. The strengths based approach is aimed at building the infrastructure to promote resilience in vulnerable communities. The BCR model is being tested in five major U.S. cities and is supported in part by the Doris Duke Charitable Foundation, The Kresge Foundation and Nemours. Read more.

 

Frank Belmonte, DO, MPH, FAACP—Advocate Children's Hospital

 

Patricia Gerrity,  PhD, RN, FAAN—Stephen & Sandra Sheller 11th St. Family Health Services

 

Gregg Laiben, MD—Blue Cross and Blue Shield of Kansas City
Law Enforcement

Kevin Bethel, MS, (Moderator) served in the Philadelphia Police Department for 29 years; in his most recent role as Deputy Police Commissioner, he was responsible for Patrol Operations for the entire city.  He has created many successful programs; has been instrumental in the development and implementation of the Police Commissioner's Crime Strategy for the City; and has been recognized locally and at the state and national levels as a leader in community and trauma-informed policing. He is currently a Stoneleigh Foundation Fellow, working with the Juvenile Justice Research and Reform Lab at Drexel University on his project, Expanding the Philadelphia Police School Diversion Program.

 

Becky Haas—Johnson City Policy Department (TN)

 

Major Darren Ivey—Kansas City Police Department (MO)

 

Chief Robert Sears, MPA—Albany Police Department (NY)
WORKSHOPS
Monday
ACEs Connection Network's Growing Resilient Communities 2.0 and Community Tracker

Jane Ellen Stevens, MA, is founder and publisher of the ACEs Connection Network, comprising ACEsTooHigh.com, a news site for the general public, and its accompanying social network, ACEsConnection.com. The sites focus on adverse childhood experiences science, and how people are implementing trauma-informed and resilience-building practices based on that science. The network is supported by funding from the Robert Wood Johnson Foundation and The California Endowment. Stevens has been a health, science and technology journalist for more than 30 years. Her articles have appeared in the Boston Globe, the New York Times, the Washington Post, the Los Angeles Times and National Geographic. She began reporting about the ACE Study and related research in 2005. She has lived and worked in Kenya and Indonesia, and has been to Antarctica – in the winter – three times on reporting fellowships. 

 

Gail Kennedy, MPH—ACEs Connection Network

 

Samantha Sangenito—ACEs Connection Network
Simple Tools to Promote Resilience and Self-Regulation and Transform Trauma

Linda Chamberlain, PhD, MPH. Read more.

 
Activism and Community Organizing:  Tools for Trauma Healing and Resiliency

David Avruch, LCSW-C, worked in public child welfare in Northern California before returning to Baltimore, where he worked for four years as a psychotherapist at Health Care for the Homeless. Currently he practices with The Counseling Center, in Towson, MD.

 
Tuesday
Using Evaluation to Inform, Support and Sustain Your Trauma and Resilience Work

Tamara Daley, PhD, is a Senior Study Director at Westat, working out of the Durham, NC office. She is a clinical psychologist by training and has 18 years of experience conducting research and evaluation on health, mental health issues, social and educational topics. Dr. Daley has particular background in program evaluation, design and analysis of qualitative and mixed-methods studies, survey design, and evaluability assessment. Topically, Dr. Daley's work has spanned programs serving vulnerable populations that include runaway and homeless youth; at-risk men and boys of color; individuals who have been trafficked; immigrant and refugee populations in the United States, and youth with disabilities and their families. Dr. Daley received her Ph.D. in Clinical Psychology from UCLA.

 

Nanmathi Manian, PhD, is a Senior Study Director at Westat. She is a developmental psychologist by training and has 15 years of experience in research design and implementation, focusing on children and families. Her area of expertise is in early childhood development including child psychosocial development, family mental health, parenting practices, and early childcare experience. At Westat, Dr. Manian conducts national and international evaluation studies that focus on Orphans and Vulnerable Children (OVC). At National Institutes of Health (NIH) she served as principal investigator for a longitudinal study of maternal depression and early childhood outcomes, and has several publications in this field.  Her methodological expertise is in mixed-methods approaches to data analyses. Dr. Manian received her Ph.D. in Developmental Psychology from University of Wisconsin-Madison.
Building Resilient Communities through Policy and Advocacy: The Vital Role of Cross-Sector, Community-Based Networks

Daniel S. Press, JD, Partner at Van Ness Feldman, LLP, has provided legal and Washington representation assistance for more than 40 years to Indian tribes, Indian organizations, and companies doing business with tribes. Dan assists tribes with strengthening their tribal governments by helping them develop and implement ordinances that exercise the tribe's sovereign authority in such areas as employment rights and labor relations. Mr. Press serves as pro bono general counsel for two national organizations, the Roundtable on Native American Trauma-Informed Initiatives and the Campaign for Trauma-Informed Policy and Practice, that assist communities apply the science on the causes and effects of historical and childhood trauma to address social and health problems in their communities. Mr. Press is also an adjunct professor at Columbia University.

Elizabeth Prewitt, MA, is the Policy Analyst for the ACEs Connection Network that uses journalism and social media to increase knowledge about and demand for programs and policies aimed at preventing adverse childhood experiences and building resilience in individuals, systems, families, and communities.  Previously, she served as Director of Government Relations and Public Policy for the National Association of State Mental Health Program Directors (NASMHPD) from 2006 to 2011 where she worked on health care reform and mental health parity. Before NASMHPD, she was Director of Governmental Affairs for the American College of Physicians. She served on the legislative staff of several members of the House of Representatives and U.S. Senate.  Ms. Prewitt holds a master's degree in Legislative Affairs from George Washington University.
Using the ACEs/Trauma/Resilience Frame in Building Community Coalitions: Observations from the Field

Andrea Blanch, PhD, is Co-Chair of the Campaign for Trauma-Informed Policy and Practice and an independent consultant with expertise in mental health, trauma-informed approaches and systems change. She also directs a non-profit organization, the Center for Religious Tolerance, which supports interfaith peace building and women's empowerment across the globe. She has published widely on women's mental health, empowerment, social change, and trauma-informed approaches.

David Shern, PhD, is a Senior Advisor at both Mental Health America, and the National Association of State Mental Health Directors and a Senior Associate in the Department of Mental Health at the Johns Hopkins Bloomberg School of Public Health. Formerly, he served for 7 years as President and CEO of Mental Health America. Prior that he was Dean and Professor at the University of South Florida's Mental Health Institute. He is a founding board member of the Campaign for Trauma Informed Policy and Practice.
Questions?  Contact summit coordinators at marc.healthfederation.org.